Half-Price Champagne Happy Hour
Just sip back, and relax...
They say there are 56,000,000 bubbles in every bottle of champagne, and at Tableau the price per sparkle just got cut in half.
Every day in our main bar, oyster bar, and drawing room chose from a curated selection of half-price bottles of champagne from 2 p.m. to 7 p.m.
Current champagne happy hour selections* and happy hour pricing:
Bollinger Special Cuvée, Ay $85
A pinot noir-dominated blend that always includes a generous proportion of reserve wines. The biggest and boldest of the big house non-vintages, this is still made from mostly estate fruit. All of the reserve wines are aged in magnums under natural cork, and a large percentage of the fruit is still barrel fermented.
Moet & Chandon Rosé, Epernay $66
World-renowned champagne composed mostly of pinot noir and pinot meunier with 20 to 30 percent of the base wine selected reserve wines
Robert Moncuit Brut Blanc de Blanc, Les Mesnil-Sur-Oger $56
This family-run estate's vines are tended without the use of pesticides and herbicides. All the wines are fermented and raised in tank, the goal being in contact with the lees. They believe oak would mask the chalky sense of mesnil. The malolactic fermentation happens naturally.
Gosset Brut Excellence, Ay $60
Founded in Aÿ in 1584 by Pierre Gosset, Champagne Gosset is the oldest wine house in Champagne. Unlike most champagne produc­ers, Gosset carefully avoids malolactic fermentation and uses extended lees aging to expose the terroir and produce dynamic, age-worthy cuvées.
Dom Perignon Brut, Hautvillers $175
Dom Pierre Pérignon did make several important innovations in champagne production, such as developing the technique used to make white wine from red grapes and blending grapes to make superior wine. Dom Pérignon can spend between 6 to 7 years on the lees.
Champagne Palmer & Co Brut Reserve, Reims $64
This brut reserve is dominated by chardonnay. Palmer & Co is one of the rare champagne houses to have adapted the use of a solara system for its reserve wines.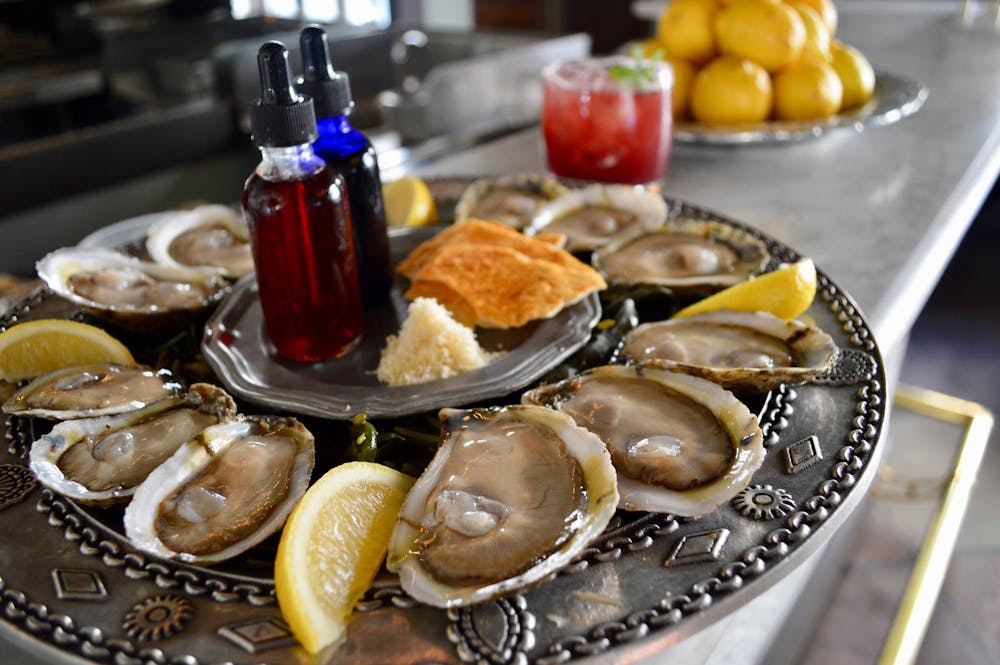 And along with that bottle, might we suggest a few favorite pairings like premium off-bottom oysters, Truffled Crab Claws, Brown Butter Gnocchi, or Oysters Bienville?
Tableau's menu features selections that chart a modern evolution of creole cuisine and is located at 616 St. Peter Street in the heart of the French Quarter with picturesque views of Jackson Square.
* Selections based on availability